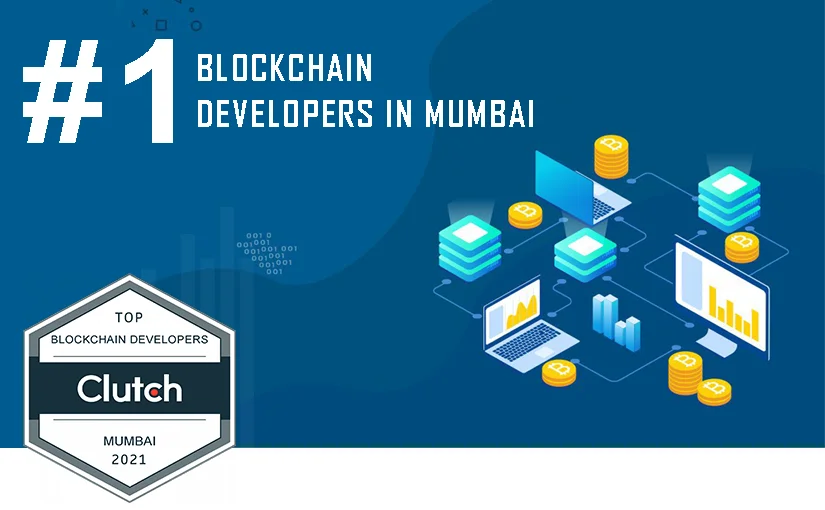 Softlabs Group ranked Top#1 Blockhain Development Company in Mumbai by Clutch
Softlabs Group is honoured to be featured as Top #1 Blockchain Development Company by Clutch.co. We are extremely proud of our team and our work for such significant recognition from one of the leading B2B tech services research and review platforms. Clutch is a well-known platform committed to serving small, mid-market, and enterprise businesses to find and connect with the service providers they require to achieve their business goals.
We're excited to celebrate this achievement and our great clients who showed their appreciation for our work. These honours would not have been possible without their trust and support in every step of our journey.
Clutch's full research can be found in the Blockchain Development Companies directory.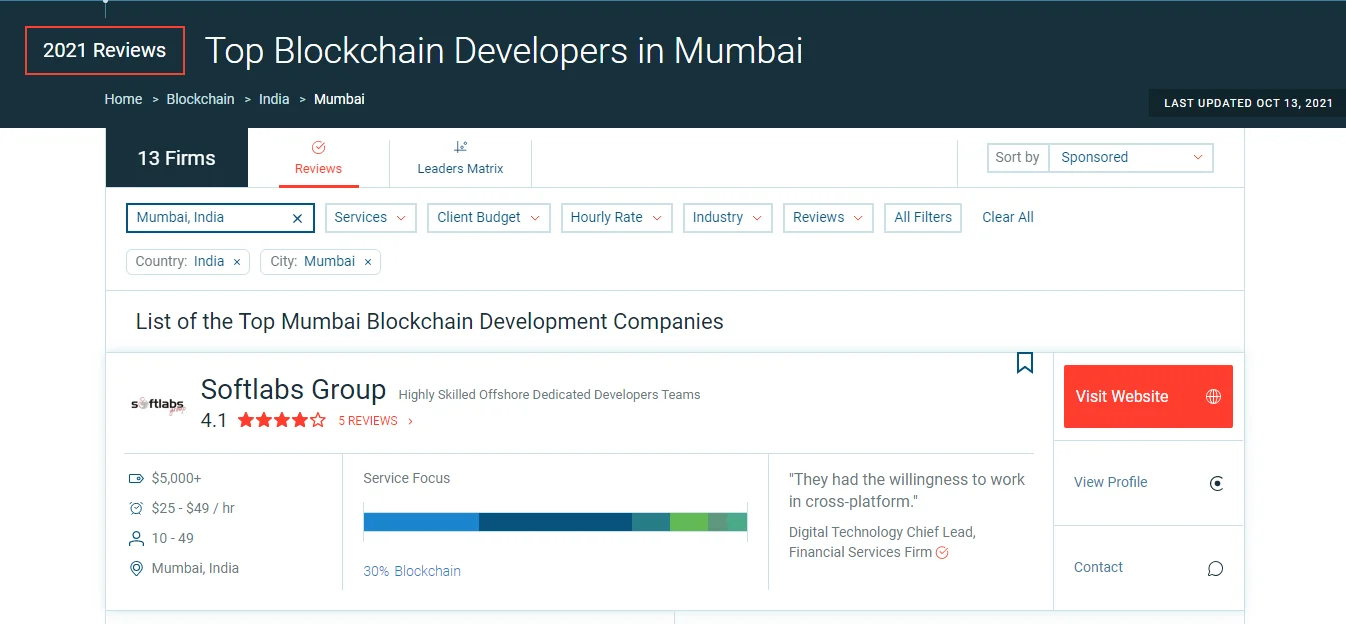 Our team expertise and commitment to building robust and reliable Blockchain solutions are reflected in our client reviews featured on the Softlabs Group profile on Clutch. We are a team of experts working towards one goal – help our clients to develop a successful software solution that solves their business problems.
Here are some comments that our previous clients shared about their collaborations with us:
They value relationship-building
Team did an outstanding job delivering a high-quality software with the given deadlines. They were always available to discuss the details about the project to make sure we were focused in the right direction. I will surely recommend their services to anyone looking for a dedicated and highly experienced team.
- Haron Kiriba
CEO, Wiseman Talent Ventures - Kenya
Great service at competitive price
Softlabs Group has completed the project on schedule and on budget. I must say they have great team as well as excellent project management skill and they are eager to fulfil our expectations and even ready to go the extra mile to achieve our business goals. I really appreciate their agile development processes and promptness in communications. Highly recommended!
- Srikanth A. V.
Founder & CEO, Citadelle Asset Advisors Pvt Ltd – India
We are more like a team because Softlabs understands our way of doing things.
Softlabs Group has the ability to understand the end-user and developing appropriate solutions to meet their needs. Everyone I have dealt with from the company has been extremely courteous and professional. I appreciated their dedication, critical thinking, and great responsiveness. I don't have any doubts about recommending Softlabs to others who are looking for development partner.
- Pride Sinkala
Managing Director, SKYGOLD Ltd. - Zambia
Best team of developers and thinkers things.
Compared to previous developers we've worked with, Softlabs' development quality is really amazing. Their expertise is very strong. Softlabs gave us real-time feedback on how things are going, and what can or can't be done. Their flexibility and willingness to pivot when we think is necessary is really appreciated.
- Ashwin Gurjao
Operations Manager, Symbio Energy Limited. – UK
Competent and professional staff
Softlabs Group has been engaged with us for the development of Mobile iOS/Android/Windows APPs, Desktop Apps, Touch Screen Windows APPs. Their staff have mostly been doing this work remotely but two of their resources spent some time in our offices in Northern Ireland getting project scopes & building relationships with our local team. They provided flexible services with both competent & professional staff.
- Brian Law
IT Manager, FP McCann Ltd. – UK
Providing exceptional Customer Service
This is to certify that Softlabs Group has been awarded a Service Excellence certificate for providing exceptional Customer Service. The developers are skilled, focused and proficient who deliver the quality software product that we are looking for. At Softlabs Group, they have a great work culture and provide us with actionable insights & recommendations that help us to grow our business.
- Sonal Desai
Senior Manager, HSBC – India
Truly satisfied with innovative and advanced software application
The Diamond ERP software developed by Softlabs has enhanced our abilities to monitor stock of goods at our multiple locations across the globe. We are truly satisfied with Accounting & Finance Module with its extensive functionality which enables us to do our business in a more flexible manner. The application presents an innovative Dashboard for the Management to get the Bulls Eye View of every aspect of the business.
- Hardik Shah
Senior Manager, Shrenuj and Company Ltd. – India
Operations Manager, Power Utility
The communication was good according to the client, but could have also been a bit better. The same goes for the project timeline. Overall, the client was happy with the product, technical documentation, and project management.
UI/UX Design, IT Services Company
Thanks to Softlabs Group's engagement, they have managed the workflow smoothly. The team has communicated well to provide progress updates and feedback. Their problem-solving skills and knowledge in the industry have been impressive throughout the partnership.
So, are you ready to start your project with the Top Blockchain Development Company in Mumbai? Please contact us today so we can discover how we can work together.