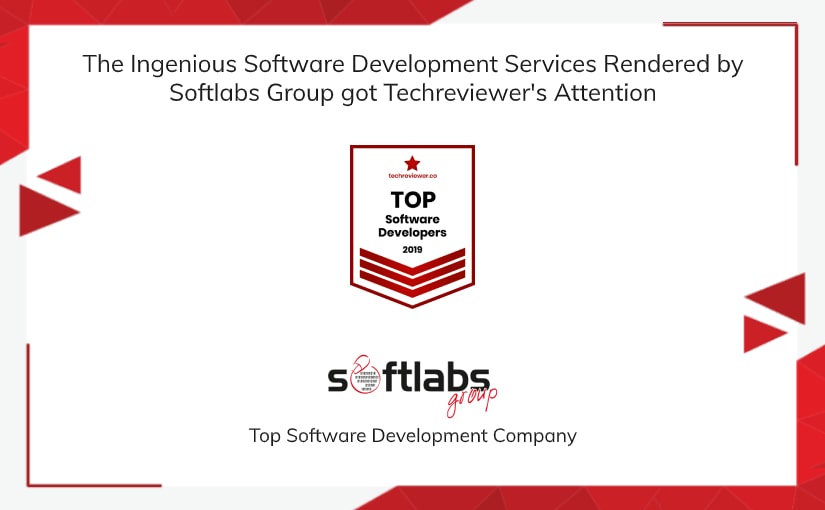 Softlabs Group, awarded as one of the Top 5 Software development companies in USA by Techreviewer
At Softlabs Group, you will find exponential records of success stories about software deliverance to our clients from a variety of verticals and industries. Basis pre-defined industry standards diligently followed by our competent IT professionals we are fortunate enough to become preferred IT partners for Indian and overseas Clients alike. Our experienced professionals take utmost care to develop the software solutions that complement the client's business ideas while contributing to their commercial growth and expansion. Our mission, while doing the right thing, is to team up with the Client and strive to formulate bespoke solutions specific to their business goals and objectives to be achieved. We take pride in sharing our Client testimonials that confirm the eminently superior solutions, developed for their business requirements.
We feel immensely honored & glad to announce that we have been awarded as one of the Top 5 software development companies in USA by Techreviewer.co. Tech reviewer is a B2B research and reviews agency which does an in-depth research to publish exceptional lists of undisputed top-quality software development companies operating & providing solutions to diversified business domains & arena based on market research and analysis. We are thrilled to have qualified and been picked as a firm deserved to be a prospect of thorough study and analysis effort, alongside hundreds of another topmost software development squad in India.
This celebration of our work by Techrevievwer means a lot to us & our team as we continue to be excited in propelling our clientele and encouraging collaborations for further growth and success. We love lending a hand to support businesses with our meticulously amalgamated technical knowledge and commitment to excellence.
Reach out to our team for assistance, be it challenges or innovations. Let's grab great opportunities together and turn them into "AWE" effect!