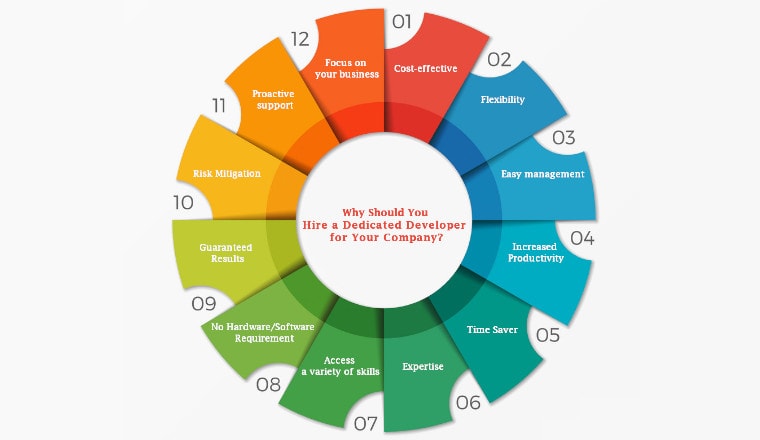 Why Should You Hire a Dedicated Developer for Your Company?
Nowadays, as the demand for software development becoming a rising trend, countries around the globe have started extracting highly skilled, talented, and experienced software developers who can surely carry out the projects for clients.
To create top-notch digital products, one requires a dedicated infrastructure, such as a dedicated development team, IT infrastructure, robust development centres, etc. To deal with such complicated problems, there is a wide range of solutions. One of which is to hire a dedicated development team for project development. If your main business is not a technology or if you are craving to extend your existing development team, you might want to outsource not just because of its commercial feasibility but some other significant elements as well.
Outsourcing your software product development to a dedicated developer may turn out to be beneficial in a lot of ways if done correctly. Here are a few benefits:
1. Cost-effective
When you hire an in-house employee, the entire cost of building a site adds up various folds and you wouldn't ask why. To begin with, you would need to hire on-contract developers. Then you might need to pay out a significant amount on their training. Adding to it, the salaries, employee perks and much more. This might prove to be an over-budget option for your product development. In such a situation, it is better to hire a dedicated developer externally or to outsource the software development to a cost-effective and reliable software development company. This option proves to be inexpensive in such cases.
A dedicated development team includes only the hiring cost of a team. Thus, you save on any long-term contracts and liabilities.
2. Flexibility
Flexibility is the biggest advantage of hiring dedicated development teams. They work as the expansion of your in-house development team and work solely on your projects.
This will help when you want to efficiently take advantage of the resources at any given point of time. Every project will require a separate and unique mix of developers, designers, product managers, QA, etc.
3. Easy management
At times, it is easier to deal with the process of software development when outsourced to an external software development team. You do not require to coordinate with the entire team separately. The development process is executed as a whole by the hired dedicated developer or the team. Hence, you only need to coordinate with the team lead of the project. You can have daily or weekly progress reports from developers which can give you an idea of how efficiently and productively the software development process is going on. This really makes it easy to manage a development team in regard to product development.
4. Increased Productivity
The development team aims to work on the basis of jobs. Once the tasks of this job are completed, the process goes for further recommendations and testing process, therefore it helps in increasing the quality of the project and efficiency too.
5. Time Saver
Shorter lead times might result in a time crunch and at times delay in a product launch. Hiring the right offshore software development team will make sure that your deadlines are met and your project is delivered on time. It will also help you save time on resourcing multiple developers for particular factors of front-end and back-end development of your project. The time spent in tracking development by coordination is also less as compared to building an in-house team from scratch. These are already trained software developers. Therefore, the decision to hire a dedicated developer or an offshore software development team to outsource your project development may actually be in your benefit.
6. Expertise
One of the major advantages of hiring a software development team for your software development project is the expertise that they bring to the table. It is better to research before you hire a dedicated developer or a team for software development services. Once you find an appropriate company that meets your product vision along with experience and expertise, the skill set of the developers can actually work for your advantage. You can accomplish your product vision and meet your development goals in time and within your budget, along with utilizing the expertise of the offshore software development team.
7. Access a variety of skills
Hiring a dedicated developer or an offshore software development team can actually expand the talent pool that you get to choose your team from. Several projects require special skills. When you hire a team of dedicated developers, you don't need to carry a load of hiring full-time employees. Moreover, when you hire dedicated developers, you gain access to their broader skills, expertise, knowledge, and solutions to develop your product.
8. No Hardware/Software Requirement
Any software development project would include a significant cost on hardware and software. Whereas software development projects don't require any particular hardware most of the times, but you would still need to reserve a workstation for your in-house software development teams to work on. On the software front, maybe you would need to invest in some tools like designing tools, such as Adobe Photoshop to get the best results. When you hire a dedicated development team, you don't have to sustain such costs. In addition, you will get many advantages of in-house software development too.
9. Guaranteed Results
When you hire a dedicated software development team, they follow the best practices to develop products. Which in turn, enhances the efficiency of your project right from the beginning. Apart from this, when the hired development team has proven experience in developing similar projects, you are rest ensured about the outcome of your project.
10. Risk Mitigation
A dedicated development team can deliver you a risk-free result. When you hire experienced dedicated developers, they get things done by considering the risks related to the alterations and operations. You don't need to worry about doing things by yourself which most likely you don't know how to do it.
11. Proactive support
You can receive better performance and nearly zero downtime when you hire a dedicated development team. The hired team can identify the problems in advance and get a solution to keep your system up & problems down. Once you hire a dedicated development team, you can get a quality consultation or advise if you require it during project development.
12. Focus on your business
When you hire dedicated developers, you need not worry about developing products by yourself. This will help you to focus on the other key activities of your business, such as Marketing, Branding, Promotions, Finance, Operations, etc, which are also important for your business.
Conclusion
Whenever you have a tech requirement that cannot be accomplished internally, hire an expert dedicated team. The experienced dedicated developers will use their experience and competencies to deliver secure and guaranteed outcomes.
Therefore, now if you are eager to hire a dedicated development team, you don't need to go anywhere else. Softlabs Group, a leading Software Development Company in India, will help you with your software development requirements. We have a wide range of experienced developers who are proficient at all the new technologies and have experience in delivering distinct projects with varying requirements.
If you are in need of dedicated resources on a monthly basis, weekly basis or just daily basis, we have highly compliant options for you. Just let us know what your requirements are and we will get back to you with the custom packages that will suit your requirements and budget or Contact us today. Also here we have listed the Top Software development companies by "Trustfirms" please have look.